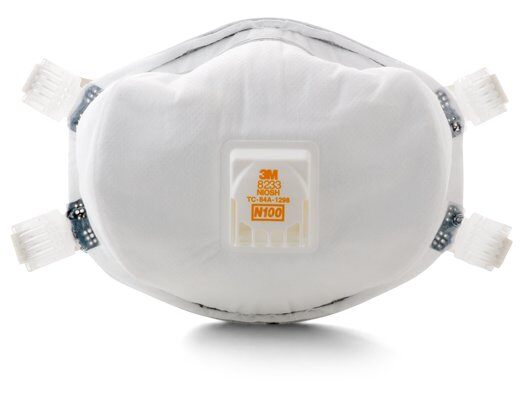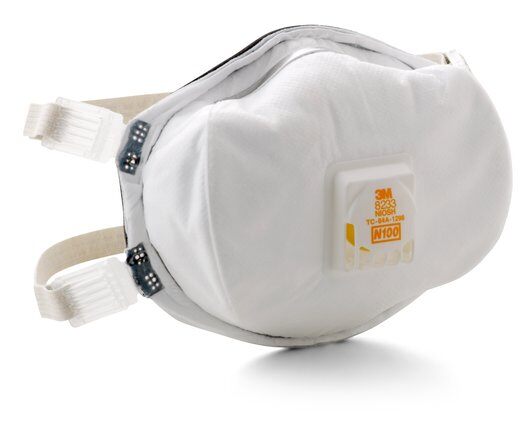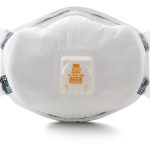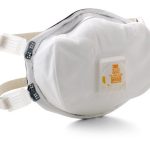 3M™ Particulate Respirator 8233, N100
NIOSH's highest rated filtration efficiency in a disposable respirator N100
3M™ Cool Flow™ Exhalation Valve reduces heat build-up inside the respirator
Compatible with a variety of protective eyewear and hearing protection
Adjustable noseclip helps provide a custom secure seal
Individually packaged
Advanced Electret Media is designed for ease of breathing
This disposable N100 particulate respirator is designed to help provide comfortable, reliable worker respiratory protection against certain non oil based particles. Features 3M™ Cool Flow™ Valve, foam faceseal, adjustable straps and individual packaging.
3M™ Particulate Respirator 8233, N100 is a disposable particulate respirator that is designed to help provide reliable respiratory protection of at least 99.97 percent filtration efficiency against certain non oil based particles. Soft inner material provides added comfort while the cup shape design makes the respirator spacious and durable. Adjustable noseclip helps provide a custom secure seal. Fully adjustable head straps help provide a secure seal. The respirator incorporates 3M's proprietary technology with advanced electrostatically charged microfiber filter media designed for ease of breathing. This respirator is compatible with a variety of protective eyewear and hearing protection. Recommended applications include foundry operations, grinding, petrochemical manufacturing, processing of minerals, and welding. Industries in which this respirator is commonly used includes construction, general manufacturing, mining, oil and gas, and transportation.
Fitted with a 3M Cool Flow™ Exhalation Valve, this respirator is ideally suited for work situations involving heat, humidity, or long periods of wear. The proprietary 3M Cool Flow valve is designed to release hot, humid exhaled breath quickly, helping to prevent an unpleasant build up of heat inside the facepiece a significant cause of discomfort to respirator wearers.
This particulate respirator is NIOSH (National Institute for Occupational Safety and Health) approved for environments containing certain non oil based particles and provides N100 (99.97%) filter efficiency. Respirator helps provide protection against certain OSHA substance specific contaminants including lead, MDA, arsenic, and cadmium (excluding asbestos).
Breathing hazardous particles can pose a risk to your health. NIOSH, a Federal government regulatory agency, has tested and approved the 3M Particulate Respirator 8233, which is designed to help reduce exposure to certain airborne particles.
General Purpose for Dust and other Particles

, Maximum Filtration
Foundry Operations

, Grinding

, Petrochemical Manufacturing

, Pharmaceutical Manufacturing

, Processing of Minerals

, Welding
General Manufacturing

, Marine

, Mining

, Oil & Gas

, Transportation