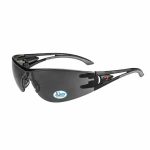 Radians Optima™ IQ – IQUITY™ Anti-Fog Safety Eyewear
IQUITY™ – A PREMIUM COATING THAT PERFORMS BEYOND EXPECTATION. Every once in a while, a revolutionary innovation comes along that really makes a difference in how you see things. Radians new IQuity™ Anti-Fog Coating is a breakthrough technology that provides one of the most superior and long-lasting anti-fog coatings in the marketplace at a competitive price. It is both EN166K and N compliant. The water-based coating lasts much longer because the anti-fog and anti-scratch properties are built into the lens for long-term wear and durability. The Radians Optima™ IQ Safety Glass offers a lightweight frame with dual mold temples. Adjustable rubber nose piece provides a comfortable, customized no-slip fit. Polycarbonate lens is impact resistant.
IQuity™ Intelligent semi-permanent anti-fog and anti-scratch hydrophilic coating that lasts longer than hydrophobic coatings.
Environmentally friendly, non-toxic and non-flammable unlike highly toxic solvent-based coatings.
Water washable up to 20 times more than hydrophobic anti-fog glasses.
Lightweight Comfortable Frame.
Dual Mold Rubber Temples provides a comfortable fit.
Adjustable Rubber Nosepice provides a customized, no-slip fit.
Polycarbonate Lens provides impact resistance.
Dielectric Frame.
Meets ANSI Z87.1 Standards.
Provides 99.9% UV Protection.